Aug 31, 2023
eCash Monthly Recap - August 2023

eCash Monthly Recap - August 2023

eCash Monthly Recap - August 2023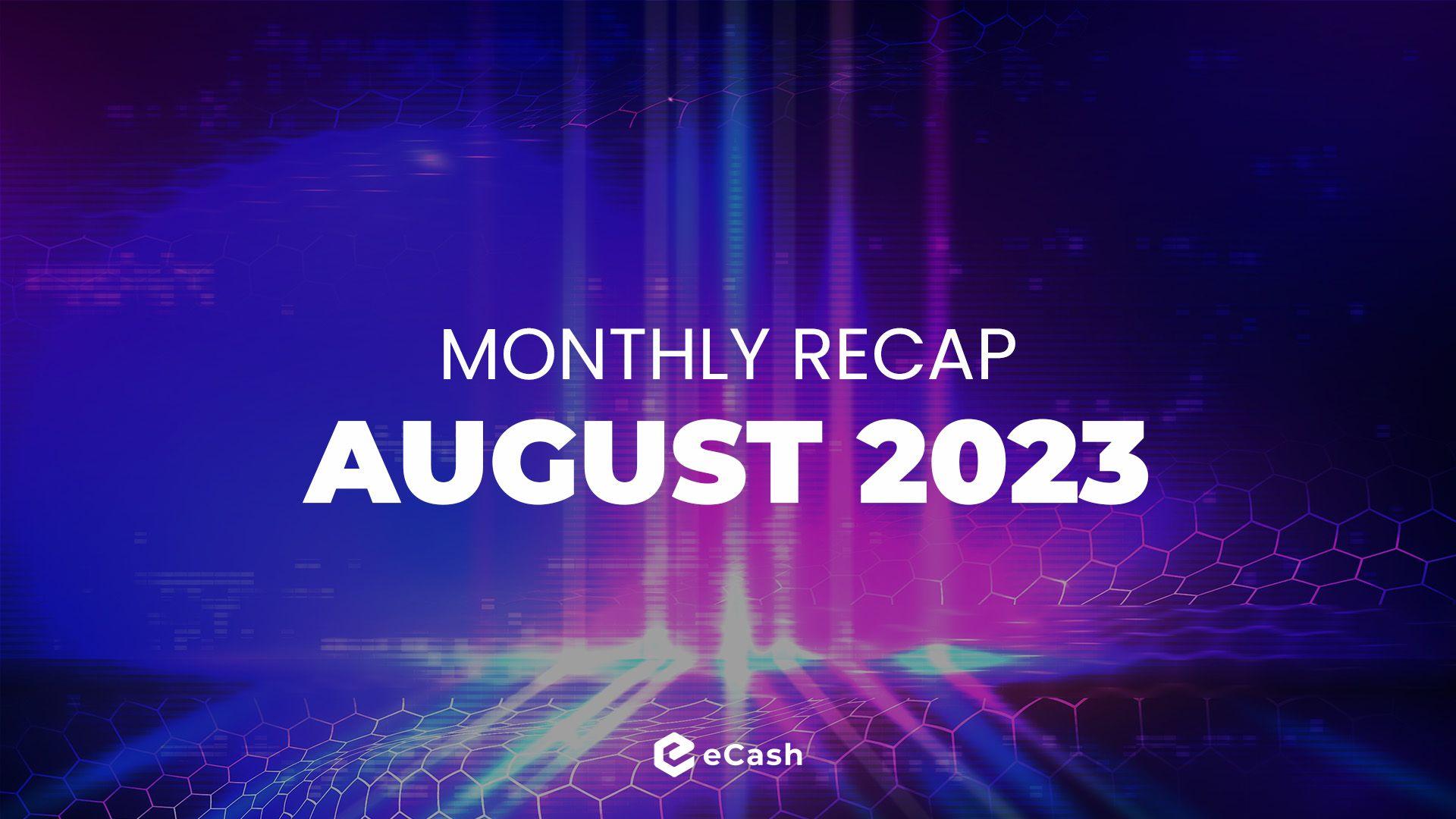 With the new month just around the corner, it's time for our monthly recap to keep you updated on all the XEC'iting eCash developments and news! 😍
Here's a brief summary of everything that happened in August! 👇🏼
👨🏻‍💻 New dev examples for creating a wallet and sending XEC added in the monorepo 👇🏼
🔗 https://github.com/Bitcoin-ABC/bitcoin-abc/tree/master/apps/examples
⚒️ New dev tool 'ecash-coinselect' for wallet developers to streamline UTXO selection 👇🏼
🔗 https://github.com/Bitcoin-ABC/bitcoin-abc/tree/master/modules/ecash-coinselect
🌟 Key Highlights - Bitcoin ABC Node Software
🛠💻 @Bitcoin_ABC releases versions 0.27.11 and 0.27.12 bringing several RPC enhancements as well as some performance improvements.
🔗 https://www.bitcoinabc.org/releases/
🌟 Key Highlights - Avalanche on eCash
Two prominent South Korean 🇰🇷 cryptocurrency exchanges UPbit and Bithumb started offering 1-confirmation XEC deposits, powered by Avalanche Post-Consensus on eCash! ⚡️🛡
✨ eCash Avalanche Network Overview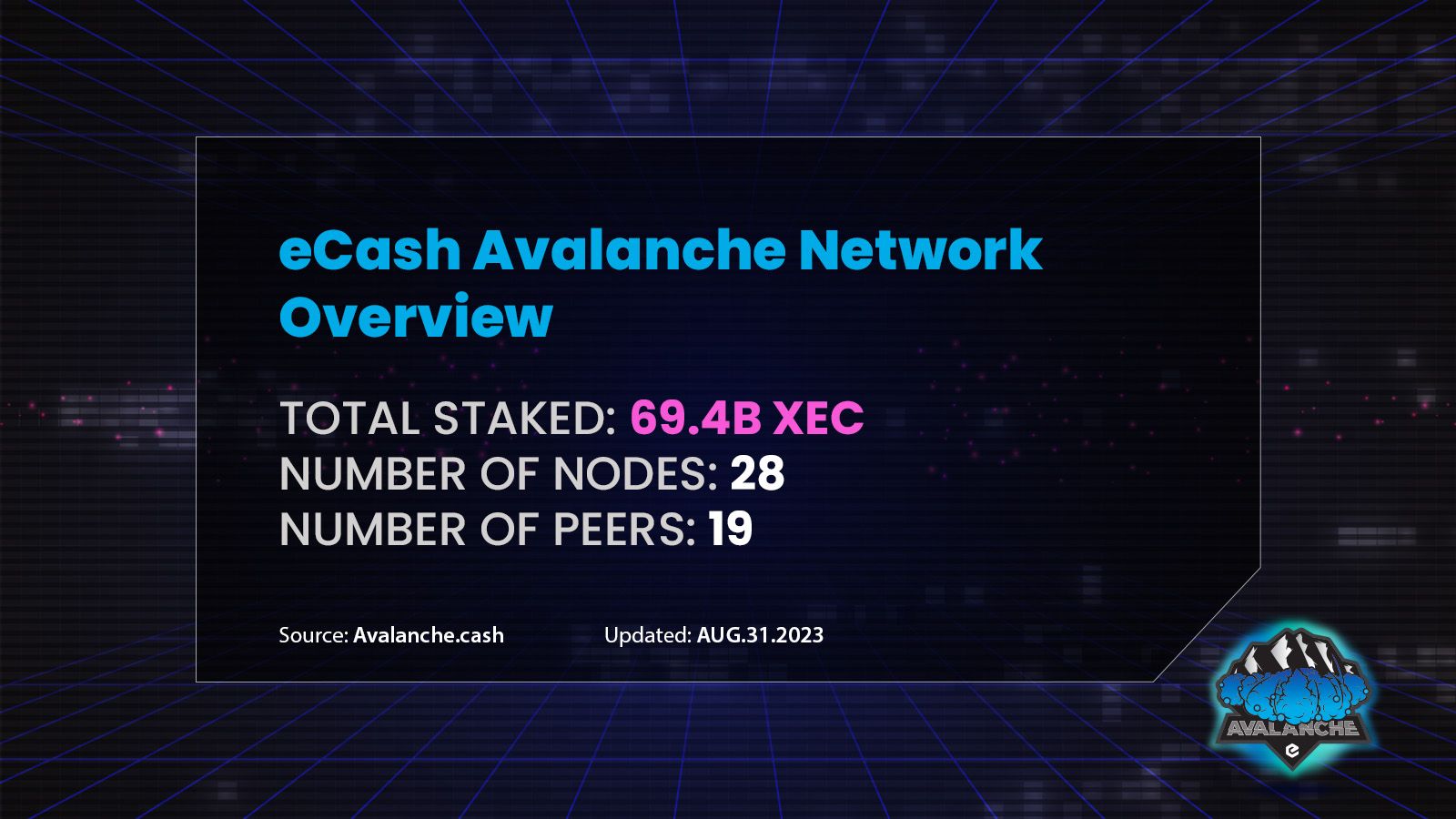 Total Staked: 69.4B XEC
Number of Nodes: 28
Number of Peers: 19
🌟 Key Highlights - News/Media 🗞️
🛒 NOWPayments.io, a leading cryptocurrency payment gateway, integrated eCash, allowing merchants to accept eCash (XEC) payments seamlessly! 🔥
🔗 https://nowpayments.io/blog/ecash-announcement
🗞️ ChangeNOW.io: "What is eCash?"
🔗 https://changenow.io/blog/what-is-ecash
🧑‍💻 Soon NOWNodes.io will start offering eCash RPC Full Node as a service, making it easier for developers to build on eCash! 🦾🔥
✅ Bit2Me Wallet integrated eCash, offering users many options to buy eCash (XEC) conveniently! 🔥🚀
🔗 https://bit2me.com/buy-ecash
🌟 Key Highlights - Community & Milestones
🕵️ Stealth Mode Activated! #GoingStealth
🥳 Our official CoinMarketCap community has reached 40K+ followers! 🔥
📲 https://coinmarketcap.com/community/profile/eCash
🎁 47,717 claims on XECfaucet.com so far! 🔥
🎁 eCashWave program participants were rewarded for their valuable contributions to the @eCashCommunity! 🤝

That's a wrap on our monthly recap! 🙌🏼
🤟 #eCashArmy, don't forget to follow and join our official social media accounts and community groups for more updates! ⤵️
You may also like

You may also like

You may also like