Dec 31, 2022
eCash Monthly Recap - December 2022

eCash Monthly Recap - December 2022

eCash Monthly Recap - December 2022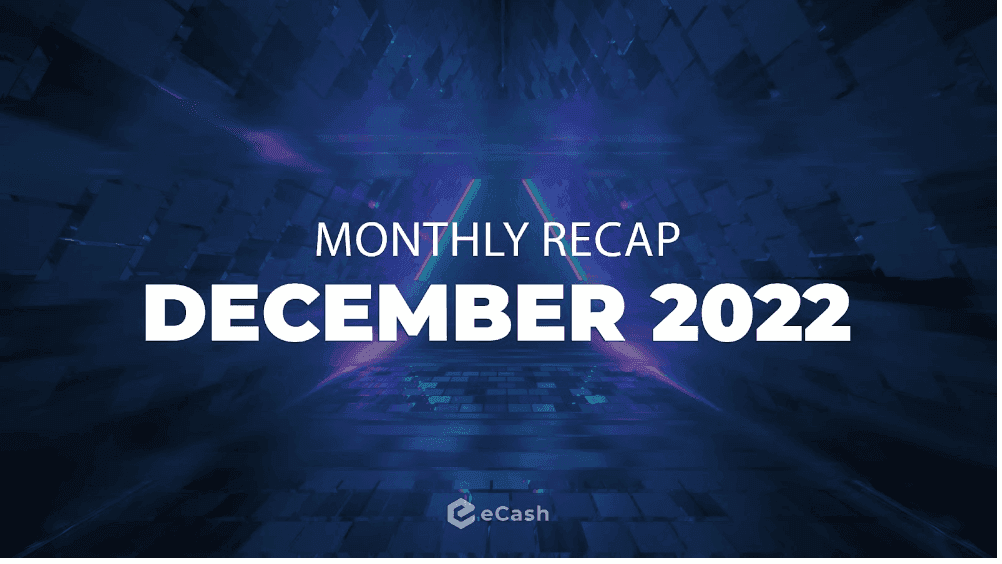 December was a MASSIVE month for the eCash ecosystem!
‍
2 new GNC projects, 3 exchanges activating 1-block finality for XEC deposits, 2 releases of eCash node software, and more...
‍
Did you miss any of the updates?
‍
Let's take you through a recap!
‍
Key Highlights - Cashtab Wallet
‍
Cashtab wallet's Chronik integration is complete:
⚡️ Improved loading speed
Optimized transaction history
⚙️ Efficient all-in-one backend
Instant notifications
‍ Significant optimization & simplification of the codebase
‍
Key Highlights - GNC (Global Network Council)
‍
eCash's GNC approved and funded a new project: P2P Electronic Cash Research in Ciudad Morazán, Honduras!
‍
https://e.cash/blog/ecashs-global-network-council-gnc-to-fund-p2p-electronic-cash-research-in-ciudad-morazan
‍
A minimal eToken explorer app funded by the GNC, was developed and released:
‍
‍
Key Highlights - Bitcoin ABC Node Software
‍
Bitcoin ABC releases versions 0.26.8 and 0.26.9 bringing new RPCs for requesting a specific block from a specific peer, restoring a wallet from a backup file, and several other improvements.
‍
https://www.bitcoinabc.org/releases/
Key Highlights - Avalanche on eCash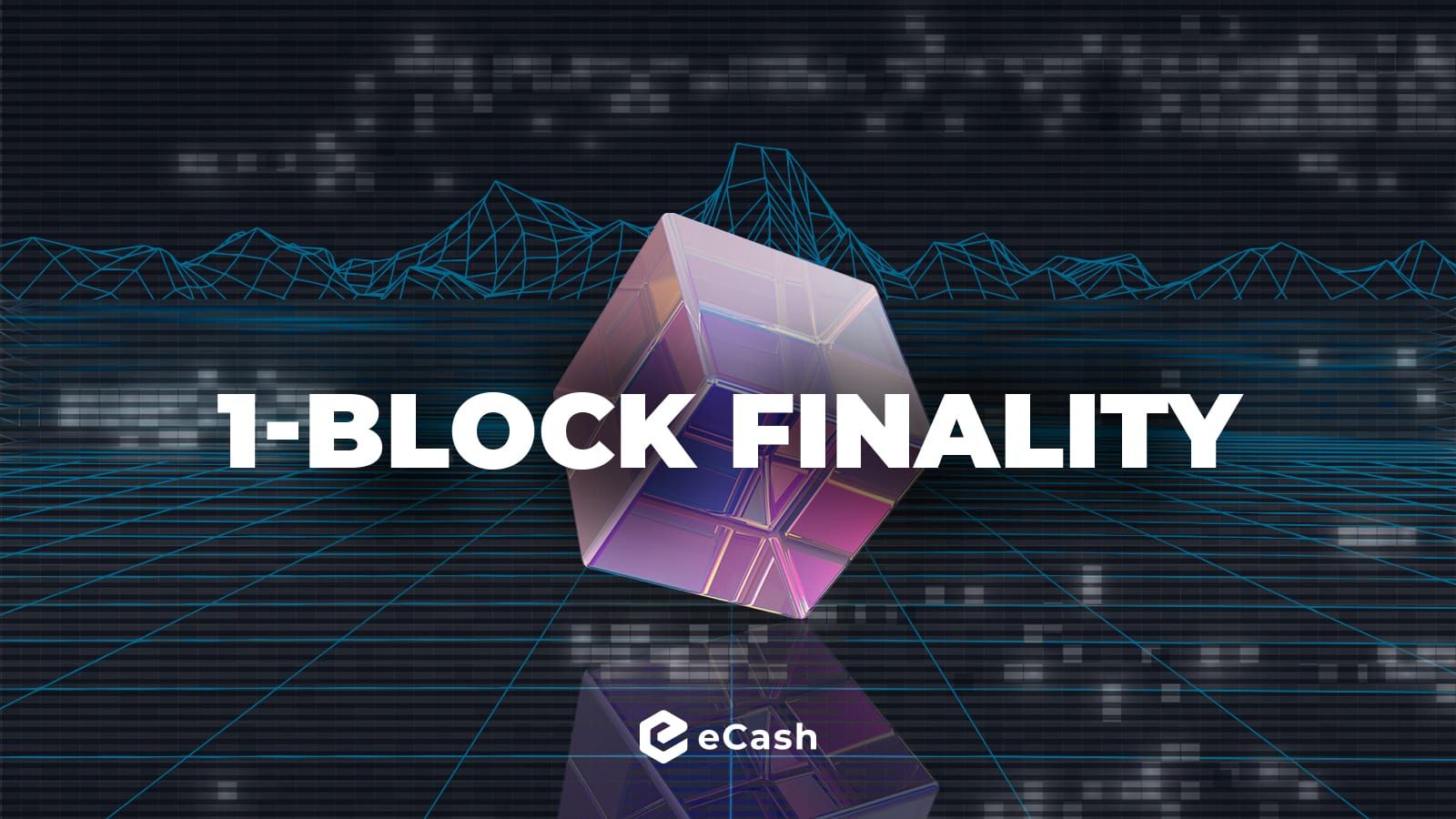 ‍
Bitrue, CoinEx, and SouthXChange joined the growing 1-conf club and started offering 1-confirmation XEC deposits, secured by Avalanche Post-Consensus on eCash!
‍
‍
eCash Avalanche Network Overview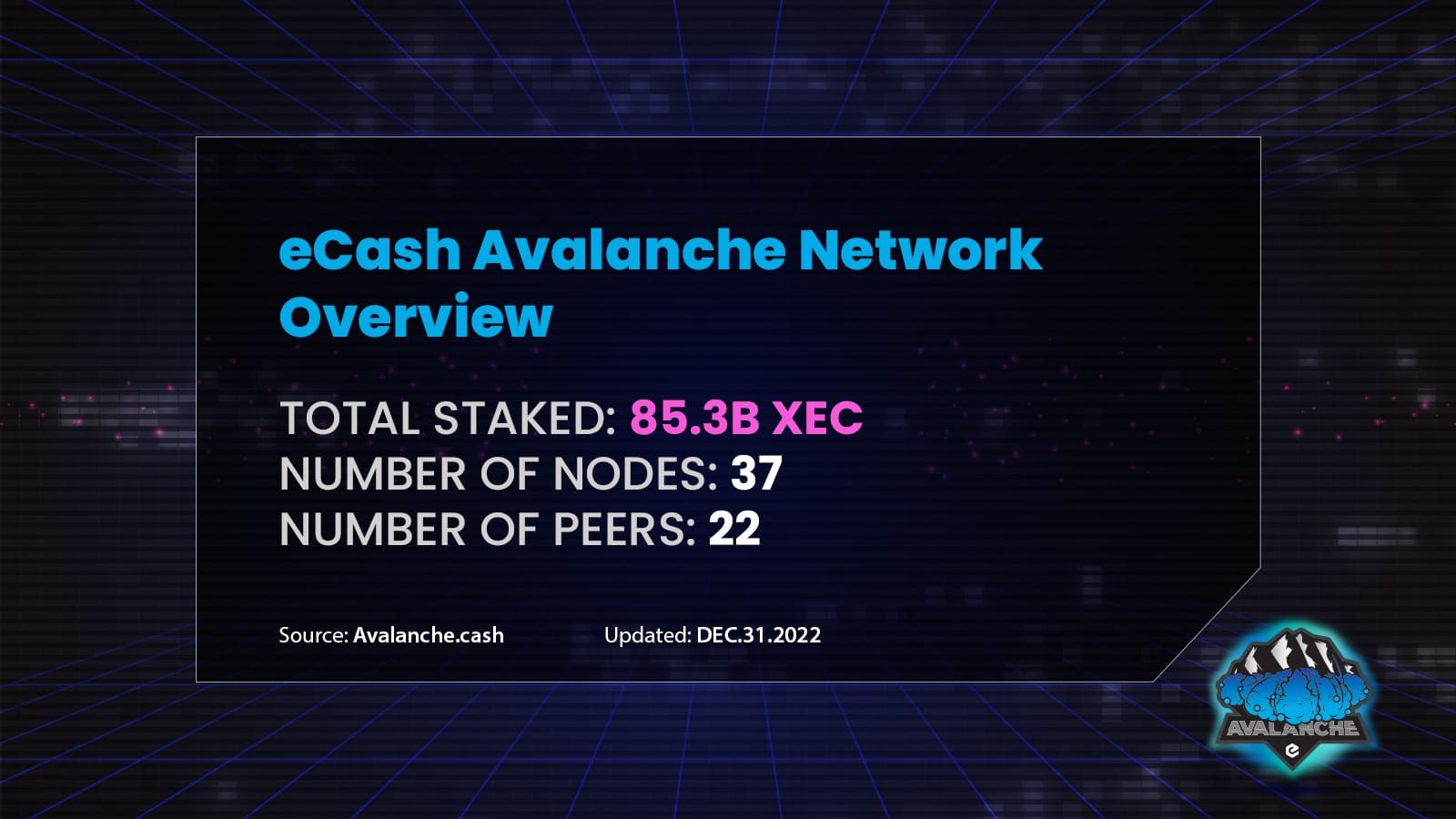 Total Staked: 85.3B XEC
Number of Nodes: 37
Number of Peers: 22
‍
Key Highlights - News/Media
‍
Hotbit exchange reduces the number of confirmations required for XEC deposits from 10 down to 2.
‍
FMFW.io exchange reduces the number of confirmations required for XEC deposits from 10 down to 5.
‍
️ A new starter guide by Cashtab lead dev Joey King for developers that want to build on eCash:
‍
https://e.cash/blog/building-on-ecash-2022-12
‍
Episode of eCash Why Crypto series: WAR
https://youtube.com/watch?v=Tf020EUz6tw
‍
Key Highlights - Community & Milestones
‍
Team @Gorbeious launches a new wallet enabling users to swap eTokens on the eCash network in a trustless and peer-to-peer manner.
‍
‍
The first season of the eCash Contribution Rewards program was successfully concluded!
‍
100M in XEC rewards were awarded to the top contributors in the two categories of #XECartisan and #XECengineer/p>
‍
ℹhttps://ecash.community/gallery
‍
Towards January 2023
‍
It's been an eventful and incredible year of building for eCash! ️
‍
We are well placed for bright days ahead, thank you for your support and company throughout the year.
‍
Happy new year #eCashArmy!
‍
You may also like

You may also like

You may also like